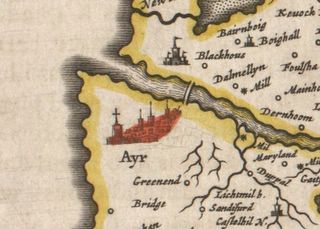 via Plep, from a searchable
Blaeu Atlas of Scotland, 1654
,
(my home town 68-72)
"AYR, or AIRY
A small city, but a large spirit clings to its strong people,
Inferior to none in the nobility of its men.
Most pure, it draws its climate from the plains of the air
And a lighter breeze rests on its gentle soil.
Hence I believe it was called Airy before Ayr,
For what right does lightness have with harshness?
But if one may compare lower thing with higher,
Perhaps it should have been first called Aureate.
[Arthur Johnston depicts it thus:
City content with the goods of heaven, either from the pure air
Or from the bronze by which you may be called, you draw your name.
Indeed you are small in size, but you increase size with gifts,
And you are in front of large cities in nobility.
You look at huge stones, at gems of little body.
Yet the little gem has more lustre.
And Jove's oak rises from a little seed,
And the seven mouths of the twin river are hidden.
Increase in spirit: she who subjected to herself lands and seas,
The city of the Tiber was once no more than a villa.] "