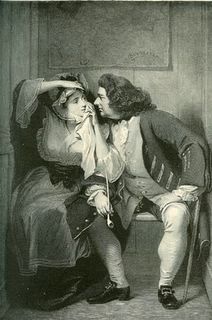 "I am half distracted, Captain Shandy, said Mrs. Wadman, holding up her cambric handkerchief to her left eye, as she approached the door of my Uncle Toby's sentry box; "a mote, or sand, or something, I know not what, has got into this eye of mine; do look into it," said she.
I see him yonder, with his pipe pendulous in his hand, and the ashes falling out of it, looking and looking, then rubbing his eyes and looking again, with twice the good nature that ever Galileo looked for a spot in the sun.
In vain, for, by all the powers which animate the organ, Widow Wadman's left eye shines this moment as lucid as her right; there is neither mote, nor sand, nor dust, nor chaff, nor speck, nor particle of opake matter floating on it. There is nothing, my dear paternal uncle! but one lambent, delicious fire, furtively shooting out from every part of it, in all direction, into thine. "
very much enjoyed
Tristram Shandy: A Cock and Bull Story
yesterday, though maybe 5% less Steve Coogan & more Shirley Henderson would have been nice, but really good withal, certainly hope it helps to create a new generation of Shandeans, who are advised to start-----------------------------------------------------------------------------------------------------------------------------------------------------------------------------------------------------------------------------------------------------------------------------------------------------------------------------------------------------------------------------------
here
-------------